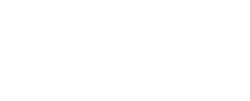 The past year has been one of great change for me, as I would imagine the first year of college typically is for most people. In addition to all of the anxiety of living on my own (sort of) for the first time and the new form of classwork that college provides versus dreary old public school curriculum, I also spent the first half of 2021 dealing with a fuckload of mental health issues, and the second half dealing with the great leap forward that is presenting fem full time in the real world. Thankfully, though, I've overcome most of these hurdles at this point, and am back to living my life as a college girl dealing with way too much homework.
BUT THAT ALL CHANGED ONE FATEFUL DAY……. when my college had spring break for two weeks in mid-March. During that period of time, and the weeks in school immediately preceding and following it, I attended five separate concerts by three different artists. These being the first shows I've been to since the pandemic happened, as well as being a social event to meet up with friends in all except one case, I figured it would be interesting to document them and talk a little about what they're signaling for me right now. Plus, it gives me a bit of a break from discussing studio recordings of music here, and instead talk about… live recordings of music. (next post here will not be music-related i promise)
CONCERT ONE: THE MICROPHONES (Phil Elverum and one other guy), March 6th, 2022
The beginnings of my month of music started about a week before I flew back home for spring break, one fine Sunday, when my friend Elliott came up from Boston to go to Portland (Maine) with me in order to witness the spectacle of the seeing The Microphones play their hit single "Microphones in 2020" in 2022. "The Microphones", if you're not aware, is more or less just one guy, Phil Elverum, who has used both that name as well as the brand Mount Eerie to release his blend of folk, indie rock, drone, noise rock, black metal, and a lot of other things over the last 2 decades or so. As one of my favorite musicians, and with the album/44-minute-song "Microphones in 2020" being my favorite album of, well, 2020, this was a show that I had been looking forward to for a long time. So we got some really good Indian food in my college town, took the train down to Portland, and filed into the church where the concert was being held after the old gallery it was going to be in sold out.
This concert was significant in addition to it being the first show I'd seen since the pandemic hit, because it was also the first concert I'd been to of an artist that was one of my absolute favorites; most of the other artists I'd seen before this were either dad-rock legacy acts or metal bands I wasn't super all that into. (Sorry Elliott!) And Phil and the one other guy on guitar that was playing with him certainly delivered! They may have only played one song, but with it being almost an hour long I don't think anyone was too bothered. The song itself is still one of my favorite musical works of our young decade so far, if not my absolute favorite, and its live performance breathed a bit more life into it as well. Most notably, during a segment in the middle, the standard structure of the song was interrupted a bit in order to make way for a 5 minute long segment of Phil slamming his bass into the amplifier over and over again, creating a massive wall of incredible noise that pretty much left me agape by the time it was over. And right after he was done, he went straight back to his acoustic guitar and kept on a-strummin'. It was an incredibly powerful performance of an already emotionally powerful song, and getting to hear it in person after almost 2 years of lockdown and not being able to get out to do much of anything was a really refreshing way to kick off the month. For the first time in a long time, live music was back, and it was good.
Afterwards, we wandered around Portland for the night, and I spent some time at the hostel room Elliott booked to stay the night while I waited for my train back to my college town. He was sleeping in a room called "The Lemur Room", which is certainly the most interesting name for a hotel room I've ever been in. When the train came back, I felt refreshed and renewed having been to see something so dear to me for the first time in so long, and prepared to deal with the last week of college before my spring break. Which brings us to what shows I went to afterwards…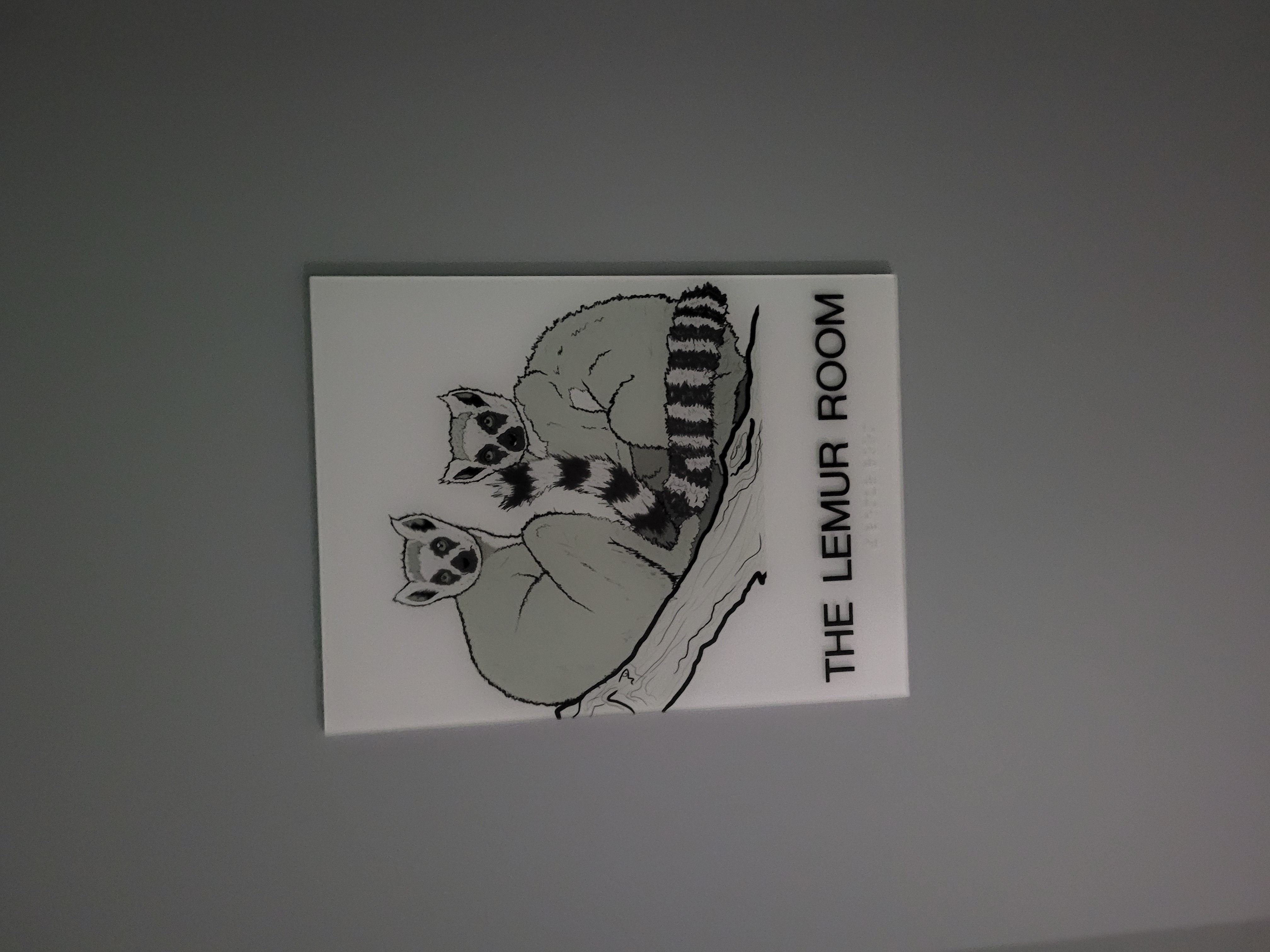 the lemur room in question
CONCERT TWO: CAR SEAT HEADREST (Milwaukee style), March 17th, 2022
Car Seat Headrest is a band that has been important to me for quite a long time at this point, so much so that it would take an entire other article on this site for me to fully elaborate what my thoughts on them are. I first intended to see them in May 2020, shortly after the release of their latest album Making a Door Less Open, but the pandemic put the kibosh on that pretty quickly. Almost two years later, however, the time was ripe. And because of the way the tour fell with my class schedule, I decided to do something really stupid and see them three times in a three-week period: once on the 17th in my hometown of Milwaukee, once on the 27th in Portland just before my classes started up again after spring break, and once on April 2nd in DC where a bunch of my friends (and also people I didn't know from Twitter) were meeting up. For Milwaukee, though, I was expecting a somewhat smaller affair, where I was going to meet up with my friend Izzy and proceed to jam a bit with them and my brother. My brother ended up not going due to an argument we got into at the last minute that I don't really want to get into here, so I went down to Milwaukee alone to rendezvous with Izzy instead. Upon meeting up, we engaged in conversation both with each other and with someone Izzy was talking to in line before I got there, who bizarrely enough knew one of my other online friends, despite me having no knowledge of this person existing prior to this. Although I have not been able to get in touch with this person since then, they were enjoyable to talk to, so hopefully that might change sometime.
Theater right when doors opened, which allowed this show to be a sort of spectacle completely different to any other show I'd seen before. Getting to stand about six feet away from Will Toledo the entire set was one hell of an experience, and the sense of community from having all these sweaty gay teens and early 20somethings around you the entire show doing shitty dances bc there's not enough room to mosh properly is one I'll never forget; it's an incredible sense of community. The show itself was also very cool: they played a few songs from their older albums, which was a nice treat, as well as cool versions of songs from their most recent album that I'm honestly pretty surprised work well in a live setting ("Hymn"'s remix especially), and some of their CLASSIC BANGERS from Teens of Denial and Twin Fantasy. "Bodys" and "Beach Life-in-Death" in particular are a sort of religious experience in person. The opening act, Bartees Strange, was also quite enjoyable, despite me not knowing any of the songs going in. Although his only album at the moment is not quite as good as the show the band put on, I am hoping his second will live up to the hype.
Following the show, feeling renewed on the streets of Milwaukee, next to the really stupid look bronze statue of the Fonz from Happy Days that we have on the river for some reason, I spent a few moments seeing the sights at night before driving back to my house. The almost two-year long quest to see a band that was my favorite musical artist at the beginning of it, but not the end, was over. Everything from here on out would be the cherry on top.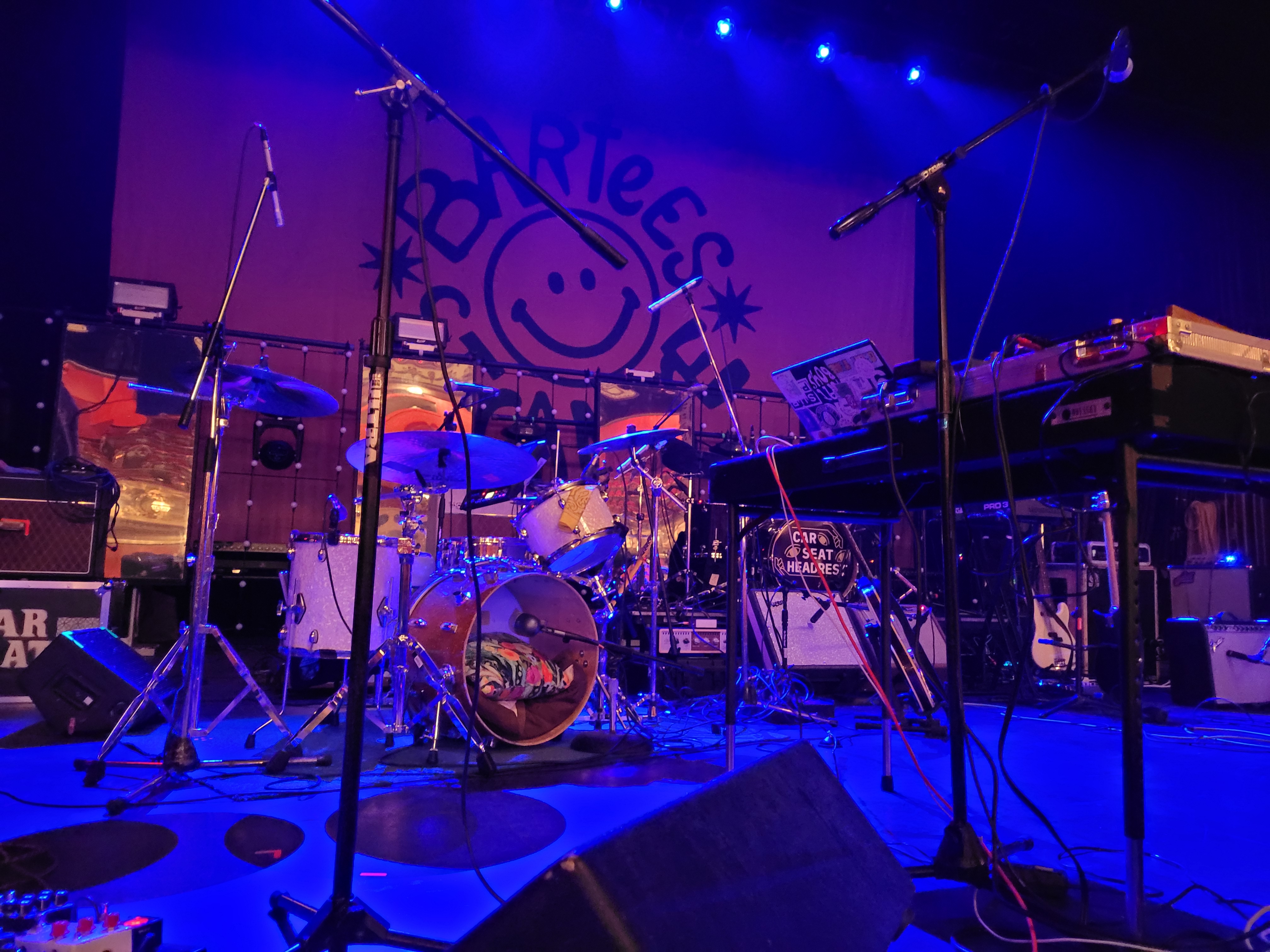 some gear before the show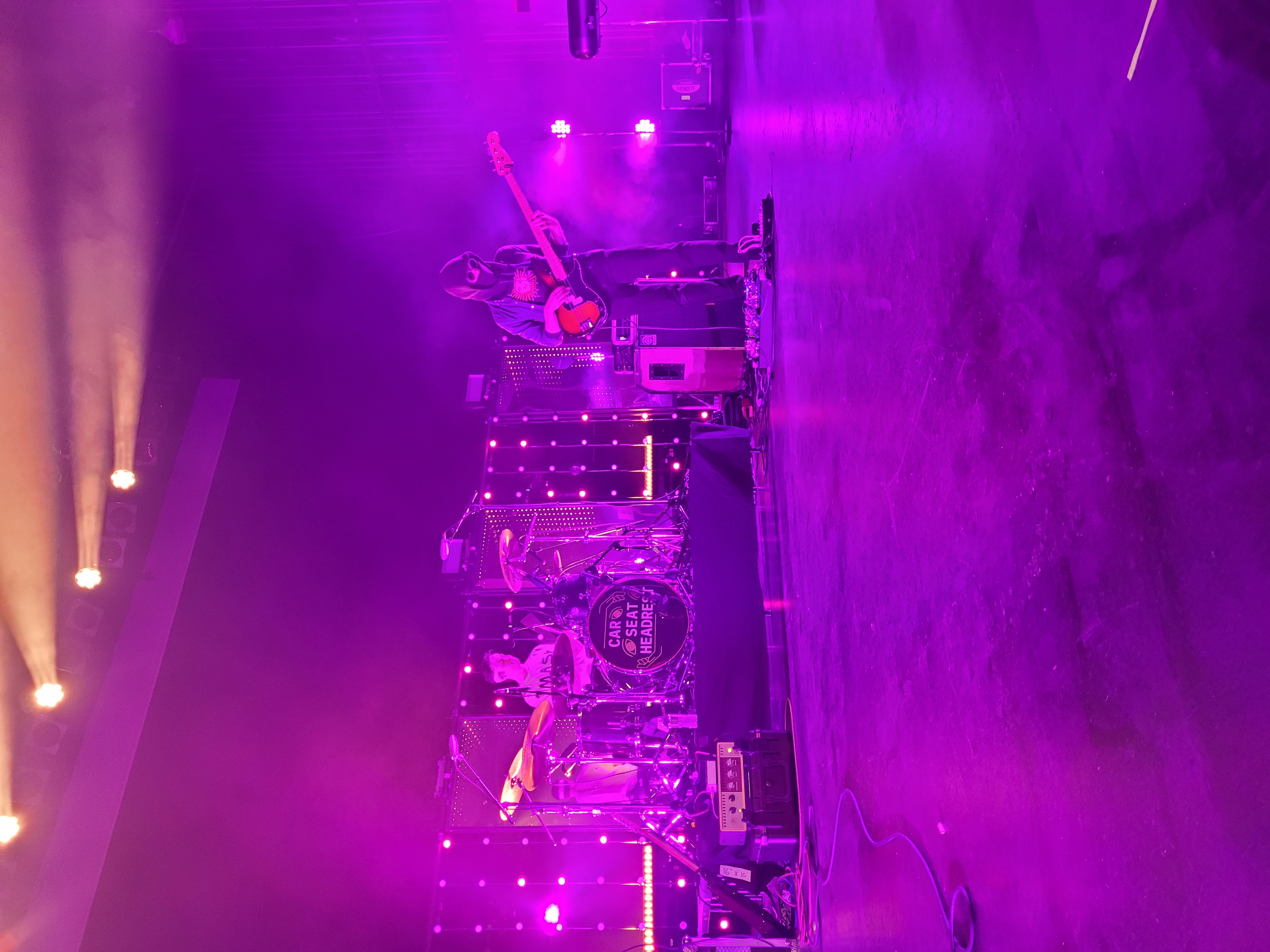 bassist (seth) and drummer (andrew)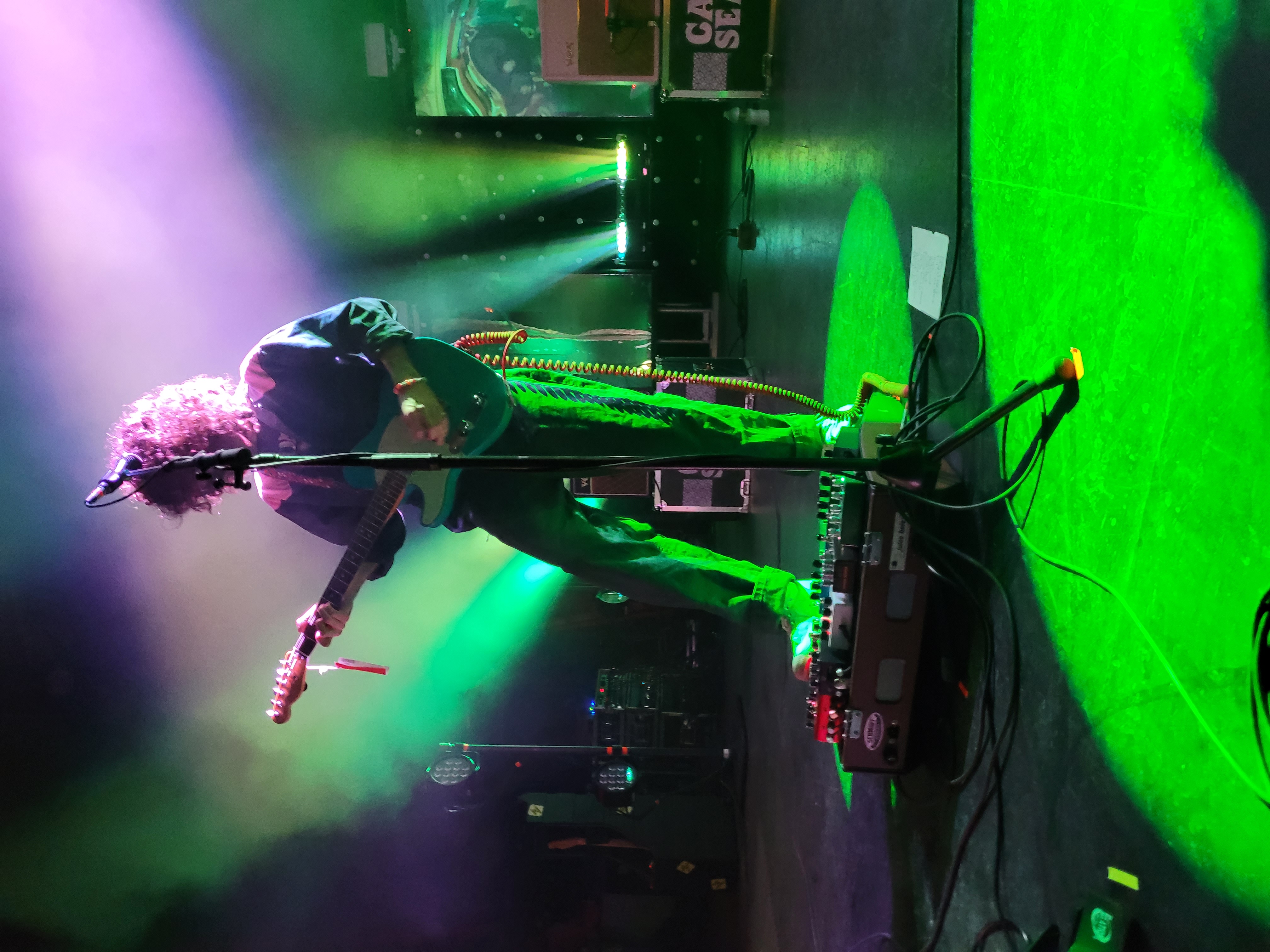 guitarist (ethan)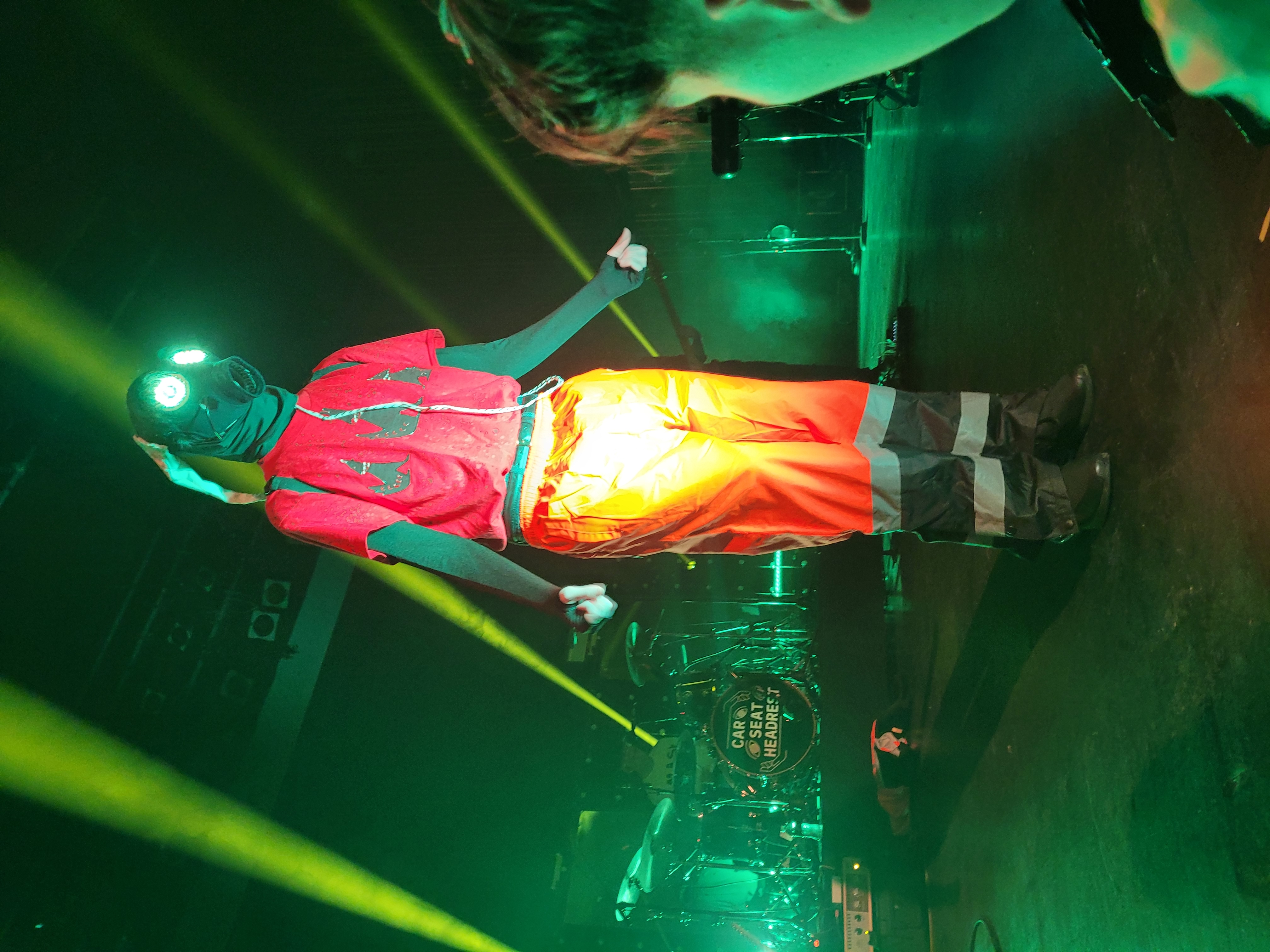 will toledo in full furry regalia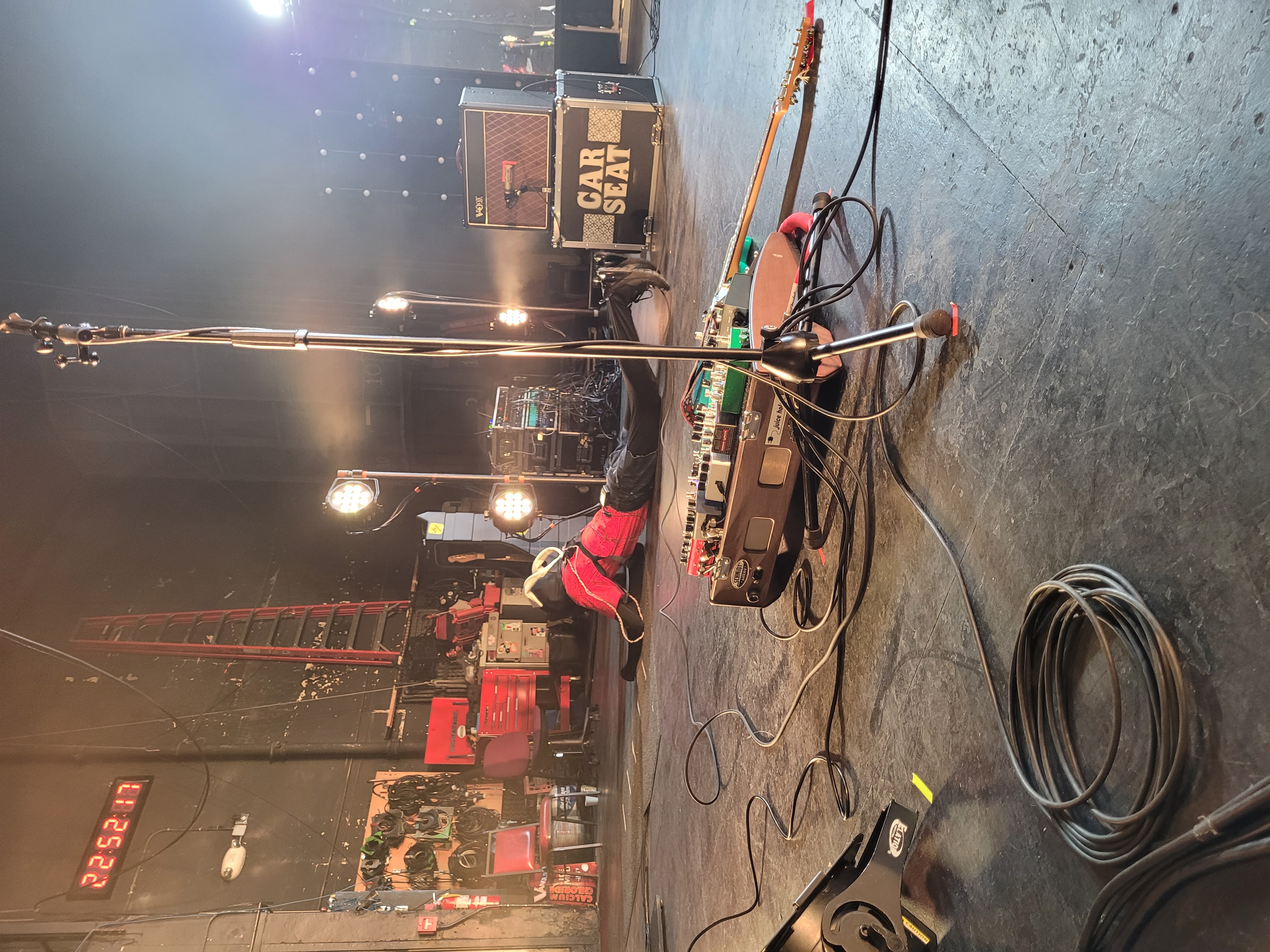 will crawling away after the show for some reason
CONCERT THREE: BLACK MIDI, March 22nd, 2022
Seeing black midi was a bit of a YOLO choice for me, as they've never been one of my absolute favorite artists. Last year's Cavalcade was pretty neat, although their debut Schlagenheim has never been my cup of tea. The new single from their upcoming third album was also very good, although it hadn't been released at this time. I mainly went to see them because I had heard that they were better live than in the studio, and that they were playing mainly unreleased material as well. Both of these turned out to be true!
The sequence of events that led up to the concert for me were plagued with my irrational fears of my parents not letting me take the car out to Madison, where they were playing, about 90 minutes from my house. This was mainly based on how I perceived them when I was in high school, and I made the mistake of not adjusting my view of them to accommodate that they respected my more advanced adult-ness now that I am a college student. As such, I told them the show was in Milwaukee instead of Madison, about an hour closer. With that out of the way, I was off, and surely nobody would ever suspect a thing…
As has been established at this point, I was meeting up with a friend at this show as well. The venue was a lot smaller than anywhere else I've been to a concert before, which is probably typical of smaller name bands and I've just not been aware of this in prior times. The opening act, Nnamdï, was pretty good, a more mellow indie rock set. This proved a bit humorous when black midi took the stage afterwards and immediately began playing some of the loudest live music I've ever heard. People were trying to mosh to it, which was funny to watch on two levels, since a lot of the songs were unreleased and most of their songs have a lot of time signature changes, which makes it pretty hard to mosh for more than 30 seconds at a time. I wore earplugs for most of it, but occasionally took them out for the songs that I recognized to get the full experience, so I came home with my ears ringing a bit. Their sax player was unbelievably energetic, so much so that you could even hear the sax (!) over the din of guitar feedback and percussion. For their last song, they did "Slow" off of Cavalcade, and Cameron, their bassist and sometimes-vocalist, just started screaming his lungs out every time the title phrase was spoken, to a volume I honestly didn't think was possible for a human voice to achieve. Getting to see something at that level of intensity in such a small club was a really great feeling; one I haven't been able to experience at any other event I've been to.
The drive back home was largely uneventful, although driving through the Wisconsin countryside at night was a bit disconcerting. Upon arrival, though, I realized my mom found out about the show actually being in Madison. Her being more disappointed than actually upset, though, made me realize that my relationship with my parents was still stuck in my high school days, where I had much less experience operating independently from them. If anything, the confrontation was a sigh of relief that I would be more respected in stating my case for future endeavors of this manner, rather than trying (and usually failing) to cover them up. With this bit of wisdom under my cap, I returned to Maine for the back half of the spring semester - as well as the final two shows of my mostly-in-March odyssey.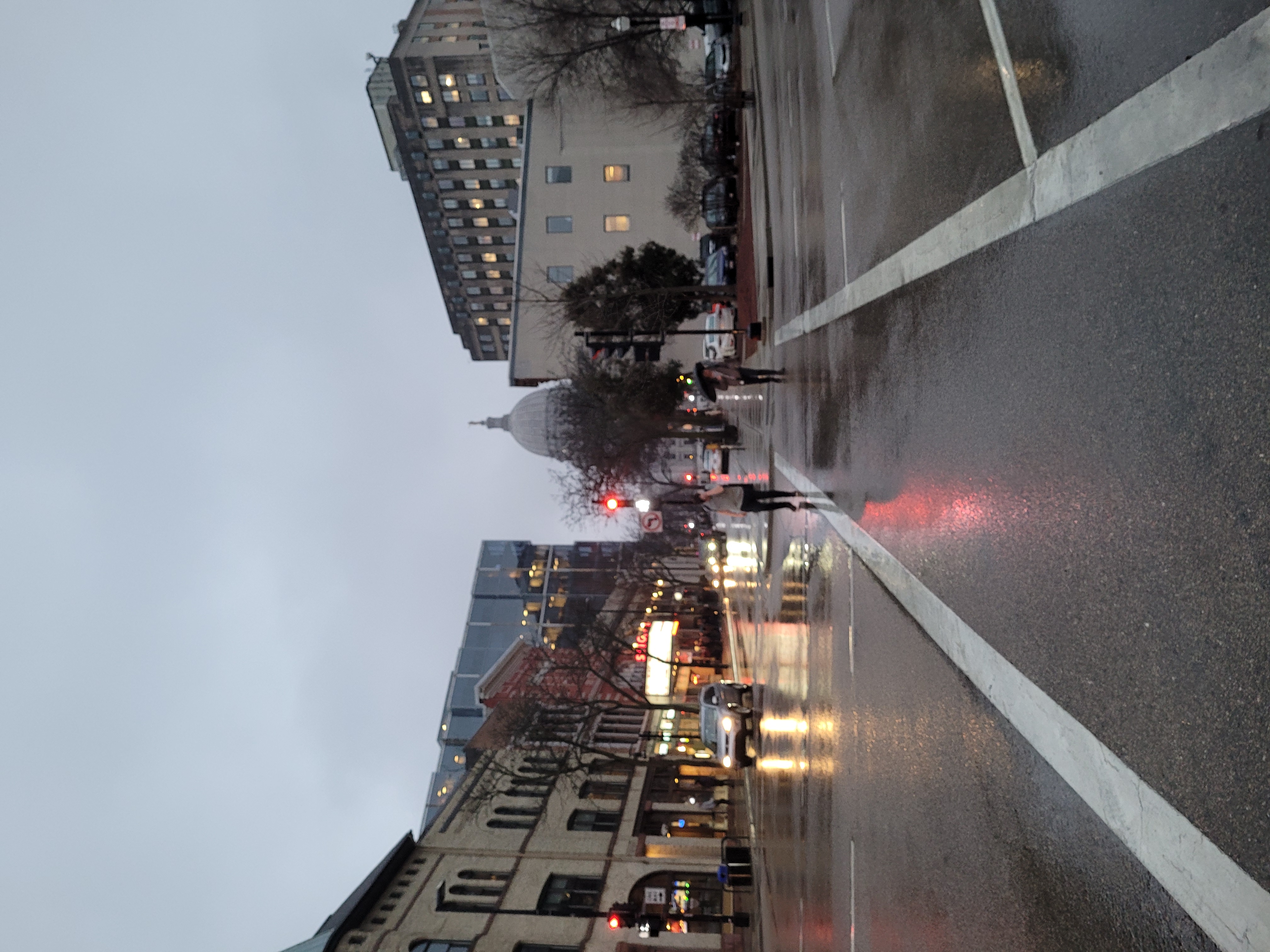 Wisconsin state capitol, right outside the theater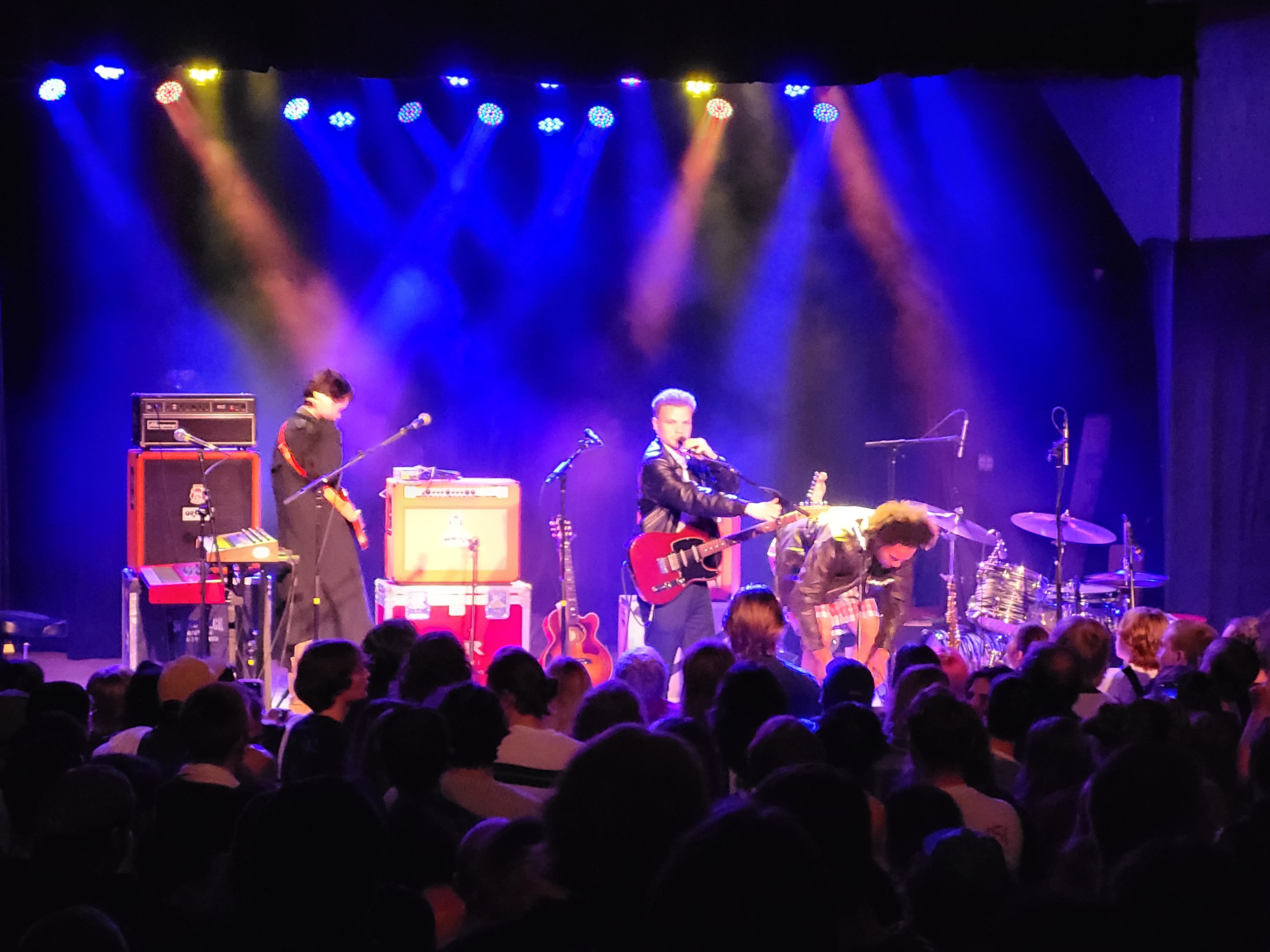 the bm boiz (official fan nickname of the band)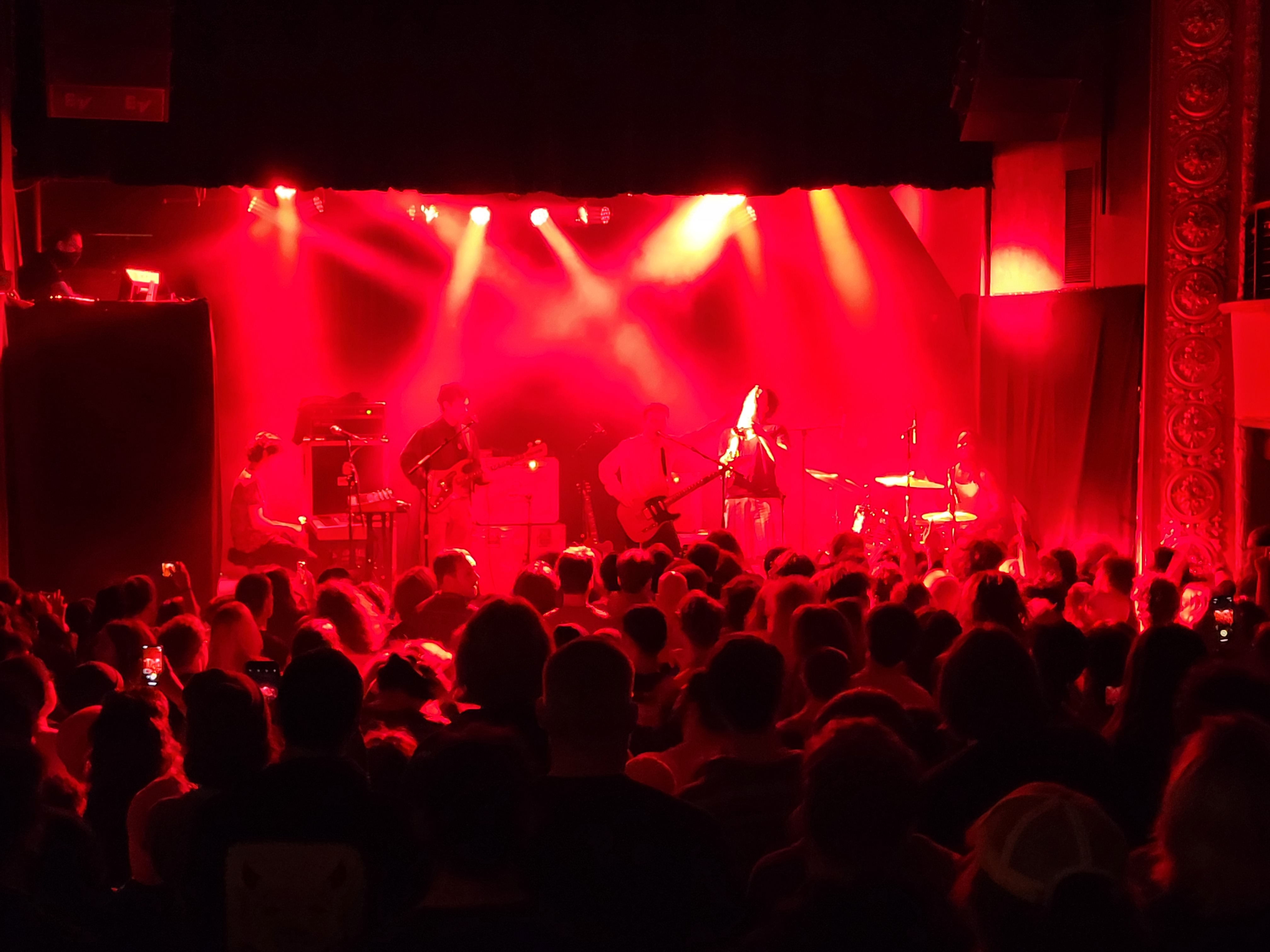 HELLFIRE HELLFIRE HELLFIRE (i wrote this before their third album came out so i didnt put it in the article but its really really good, check it out maybe)
CONCERT FOUR: CAR SEAT HEADREST (Portland style), March 27th, 2022
Black midi was the last band I saw during my spring break, but not the last I saw that month. After I flew back to my college, but before my classes began again, I once again made the trek down to Portland, this time to see Car Seat Headrest for the second time out of three. Thankfully for me, my dumb idea to see them this many times was validated by the universe when the opening act caught COVID, and the band did a special opening set instead. Bartees Strange is of course, as I previously mentioned, a very good band that should definitely be checked out by the readers of this article if they're interested, but at the same time, this new opening act was one of the cooler things I've seen in recent memory.
Andrew, the band's drummer, opened by getting on stage and painting abstract art while yelling at the crowd, which was certainly an interesting start to the night. Eventually, their guitarist Ethan got on and played some songs from his solo project, Toy Bastard, …while Andrew continued to paint. Eventually, frontman Will played some older Car Seat songs from before they were signed to a label, and then Andrew finally finished painting and did songs from his weird comedy CSH side project 1 Trait Danger. Getting to hear these stripped down versions of some of my favorite songs from one of my favorite artists (as well as a Leonard Cohen cover) was a very intimate experience, one that made my ill-advised nation-spanning concert journey a little more worthwhile. Although it's not really the same, I've put some recordings of Will's solo set I took below. Most of them aren't complete songs, but I hope it can give you some idea of what the set was like.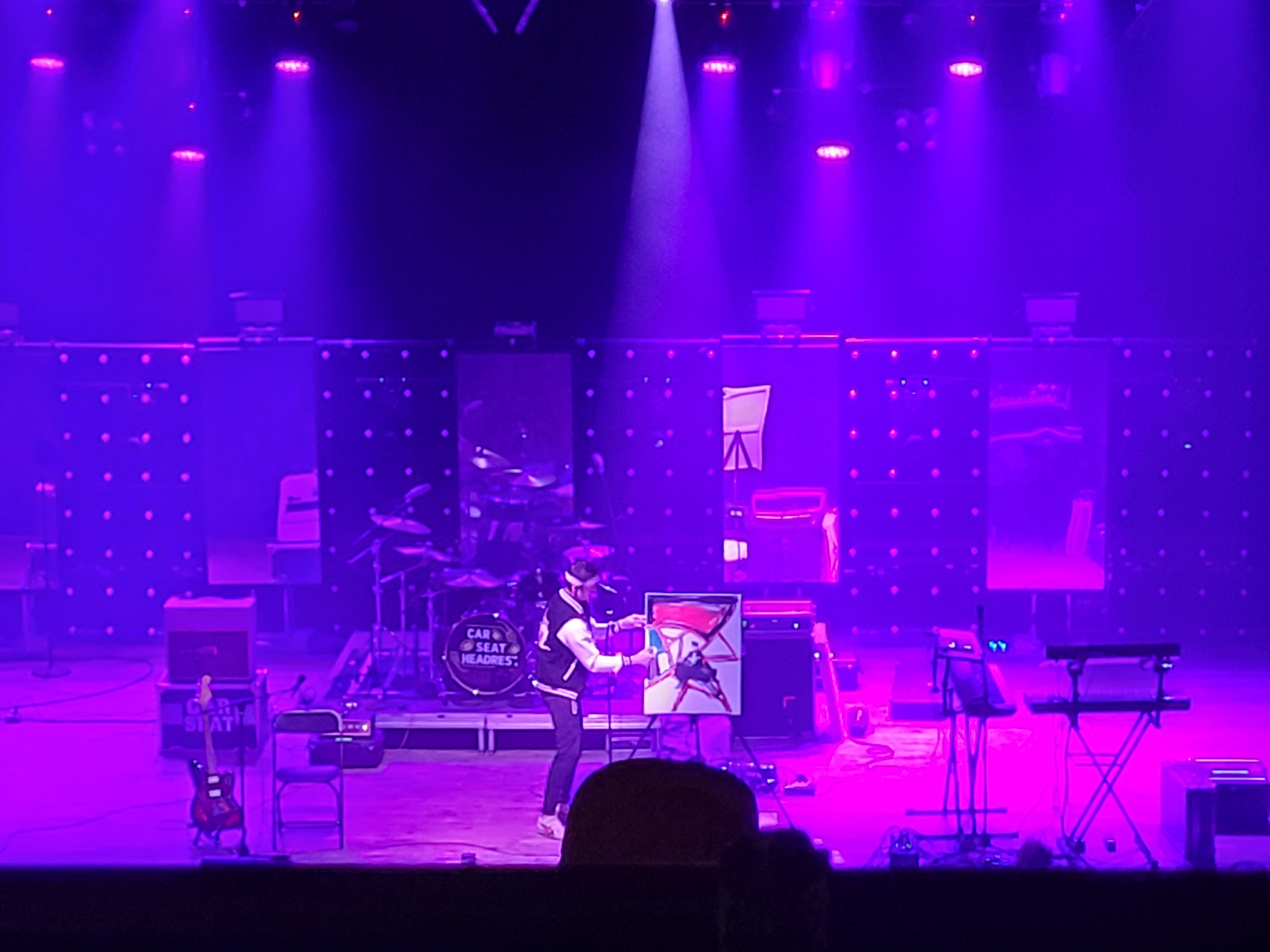 andrew painting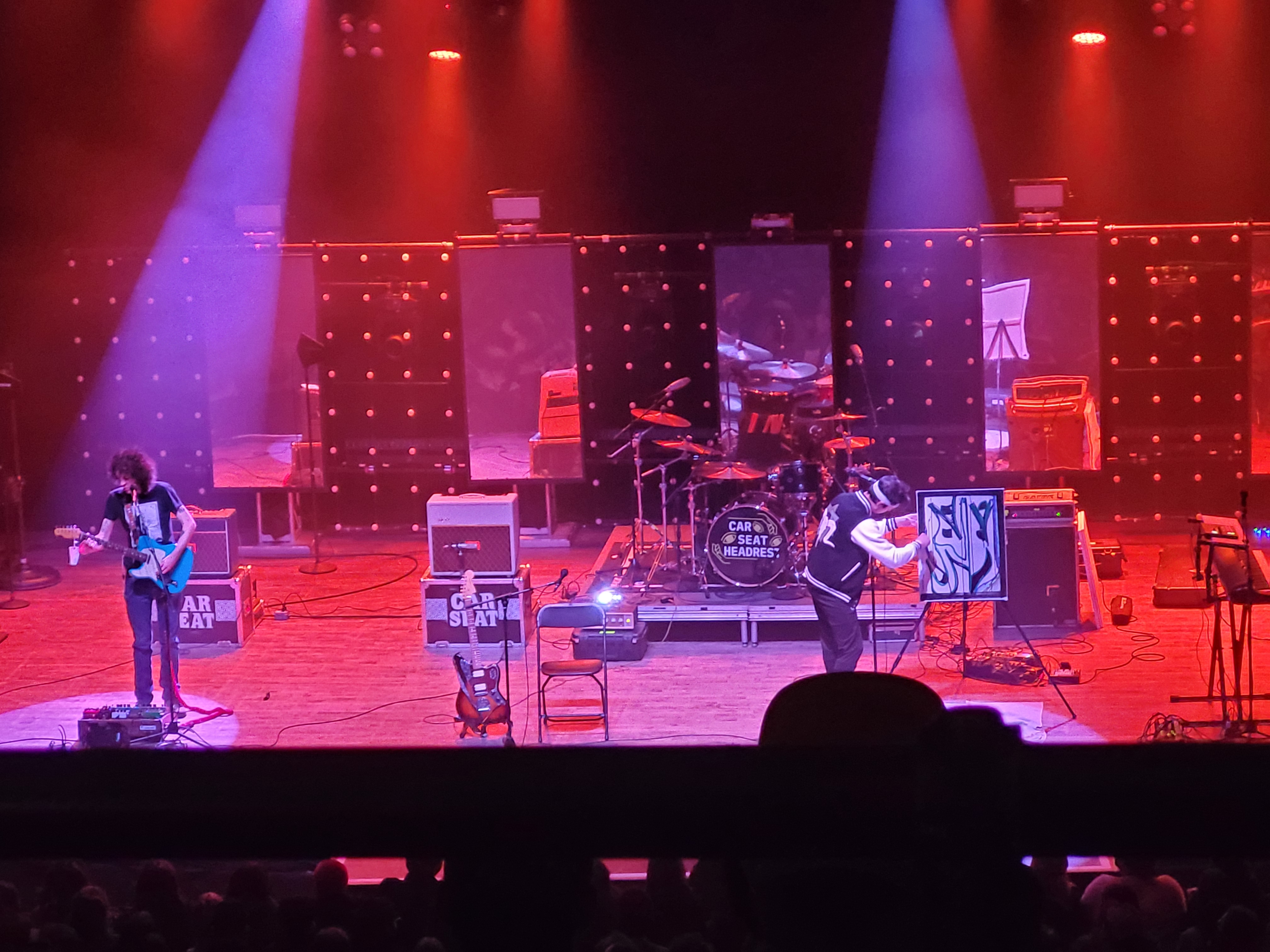 ethan performing solo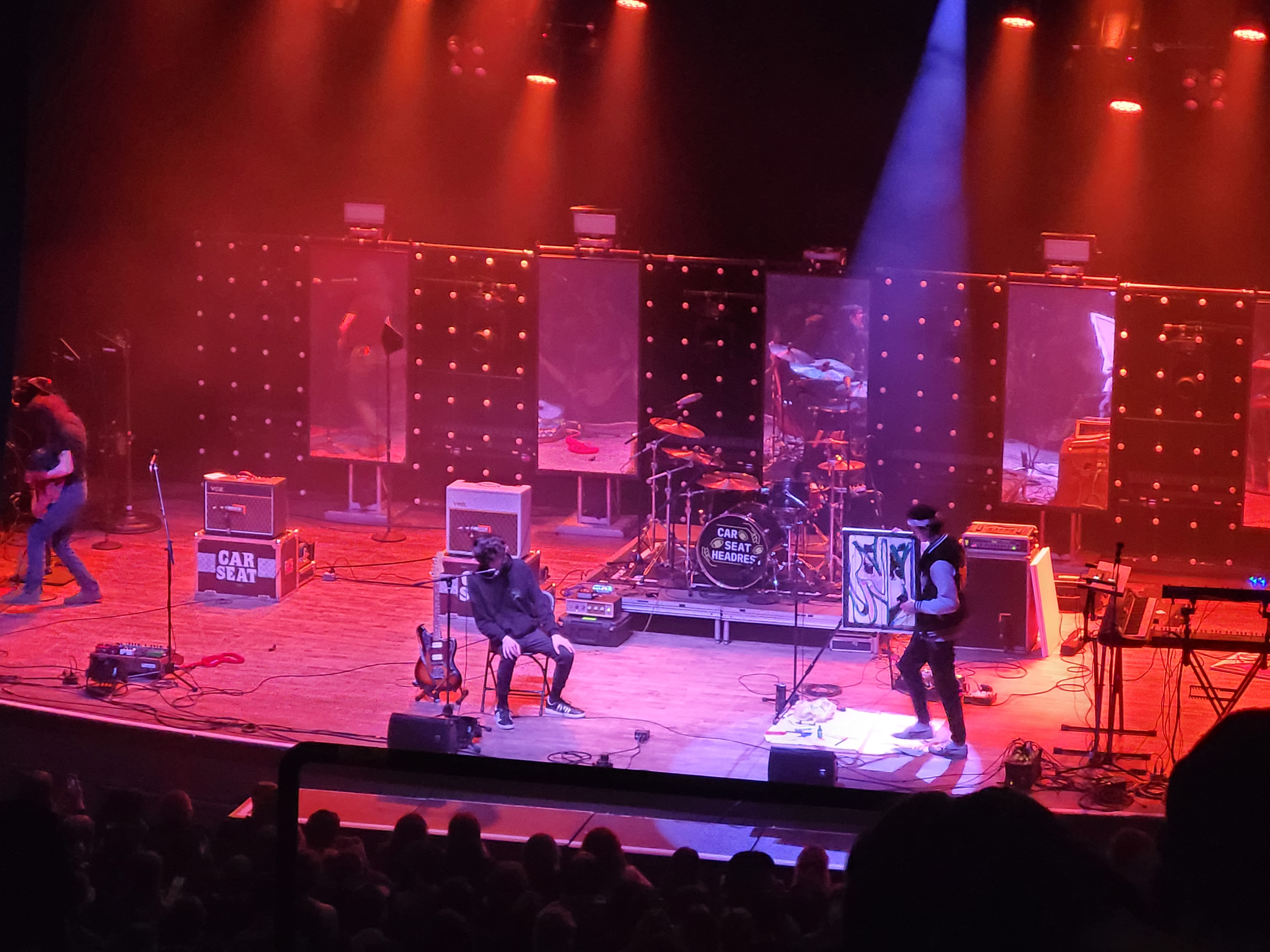 will performing solo
CONCERT FIVE: CAR SEAT HEADREST (DC style), April 2nd, 2022
The final concert of the month was notable for it not technically being in the month. It was also notable for being the only one I was attending with more than one person. The expedition from Maine to DC would be a somewhat difficult undertaking, considering I did not have a car with me at college. As such, a great twelve-hour train journey had to be taken in order to arrive for the show. Further complicating matters was the lack of any direct train between these two locales, forcing me to change trains via the subway in Boston on a 30-minute time window that became much shorter when my train was delayed, giving me about ten minutes to sprint to the subway, wait with bated breath as it took me to the next station, and then run to the train platform. This resulted in me slipping on a wet spot and injuring my hip, as well as the corner of my laptop's screen, though thankfully not its functionality. Against all odds, I did manage to get to the next train in time, and so I was all set for what would prove to be a very entertaining weekend.
One of the first events of note that occurred during the weekend was the somewhat odd group decision to spend the night smoking weed and watching Stanley Kubrick's Eyes Wide Shut. This already-questionable choice took a turn for the worse about an hour later, when the father of the friend whose place we were staying at barged in on us during a scene in which Nicole Kidman is rather scantily clad and proceeded to tell us to do the dishes or we would be kicked out of the house. This confused us for two primary reasons:
1. we were all really high and didn't understand what was going on
2. we had already done the dishes
So we all attempted to get up and do the dishes again, praying to God my friend's dad wouldn't notice our stonedness, until he shouted "APRIL FOOLS!" and promptly left the room. Having avoided marijuana-inflicted doom at the hands of the weekend's homeowner, we continued watching the movie, and were probably significantly less freaked out by all the stuff that happens in it than we should have been. (The cult scene goes insanely hard high, by the way.) Following its conclusion, we went to bed, ending our first day of festivities, and preparing ourselves for the next day's main event: a day spent in Washington, DC, culminating with my final show of the month.
This specific show on the Car Seat Headrest tour was unique in that it served as a gathering ground for a wide variety of individuals in the Car Seat Headrest Twitter scene, which me and my friends are not really a part of other than a few connections. As such, after a day in DC which mostly consisted of getting lunch and walking across the National Mall, we arrived in front of the venue to see quite a large crowd of fans of the band gathered outside, many sporting unique attire they presumably made themselves pertaining to the band. The venue itself was something of an empty affair, with an extremely large pit in front of the stage, and no seats anywhere except in the balconies and way back behind the soundboard. We ended up standing by that soundboard, which is the location in the venue that receives the highest sound quality, according to my friend who knows more about this sort of thing than I do. I suspect they may have been correct, as the ensuing show was surely the best of the three Car Seat shows I had seen over the past month, as well as one of the best shows I've seen by any artist, period.
Although the show itself, which featured a middle portion which consisted of some more stripped-down (though not completely solo) performances of a few of the band's rarely-performed earlier tracks, was spectacular, what made the concert so great in my mind went beyond anything involving the quality of the gig. It was the ability to experience this with so many of my friends that I had known for years, and finally being able to spend a weekend with them doing cool stuff like this in person. "Bodys" in particular is a song that encapsulates all of this for me: life is uncertain, especially in this day and age, and what the world will look like even five years from now can be frightening. But in the present moment, I was at a show of one of my favorite bands with some good friends, celebrating together for the first time, but hopefully not the last. And even after I boarded the train back for another lengthy ride to Maine, I knew that no matter what challenges the semester ahead of me would bring, I would still be able to reflect back on this moment, and know that moments of joy and community such as these would still be present in my life.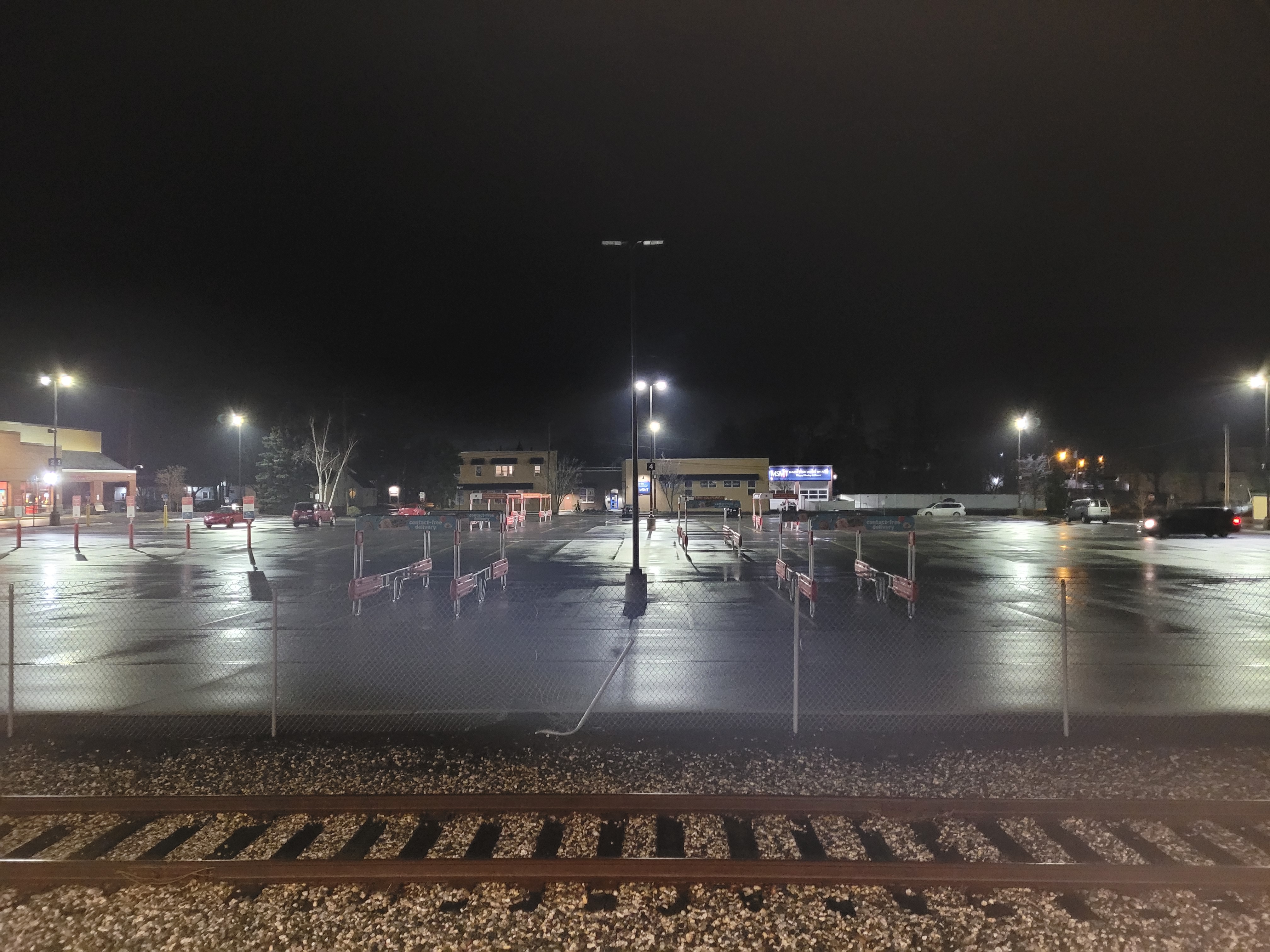 the train station in my college town shortly before departure, at 4am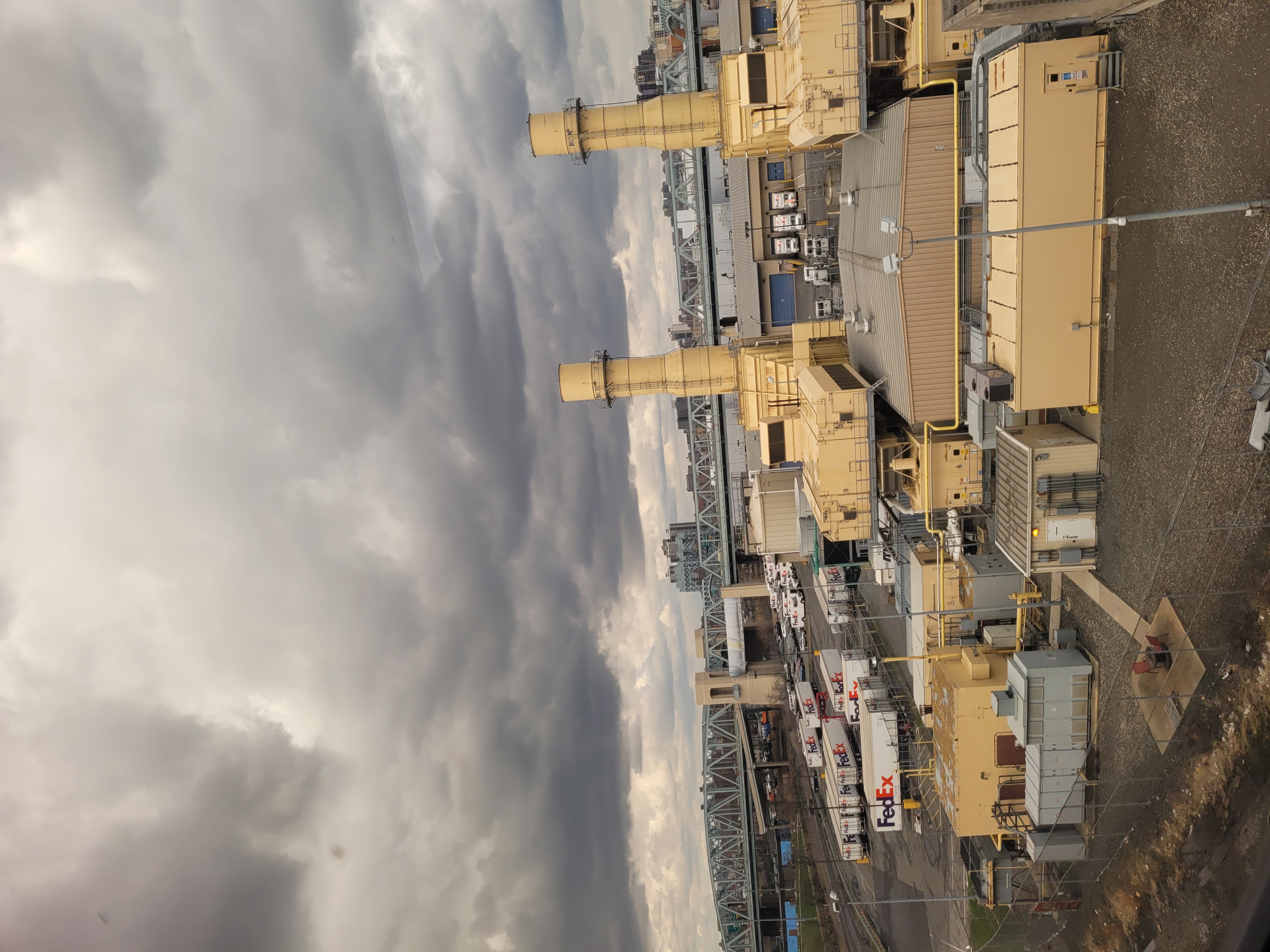 cool factory on train ride there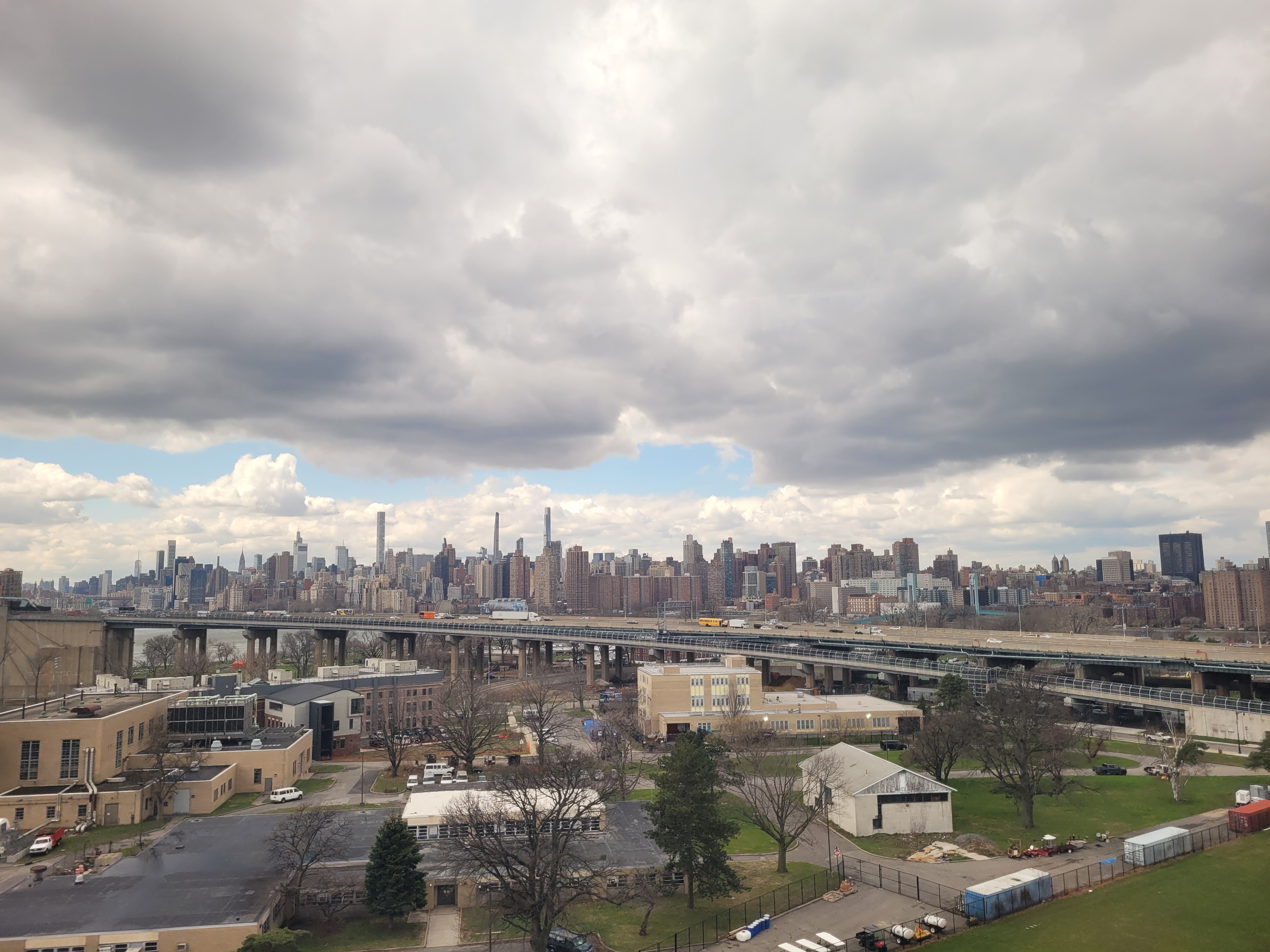 NEY YORK CITAYYYYYYY!!!! not anything interesting in it though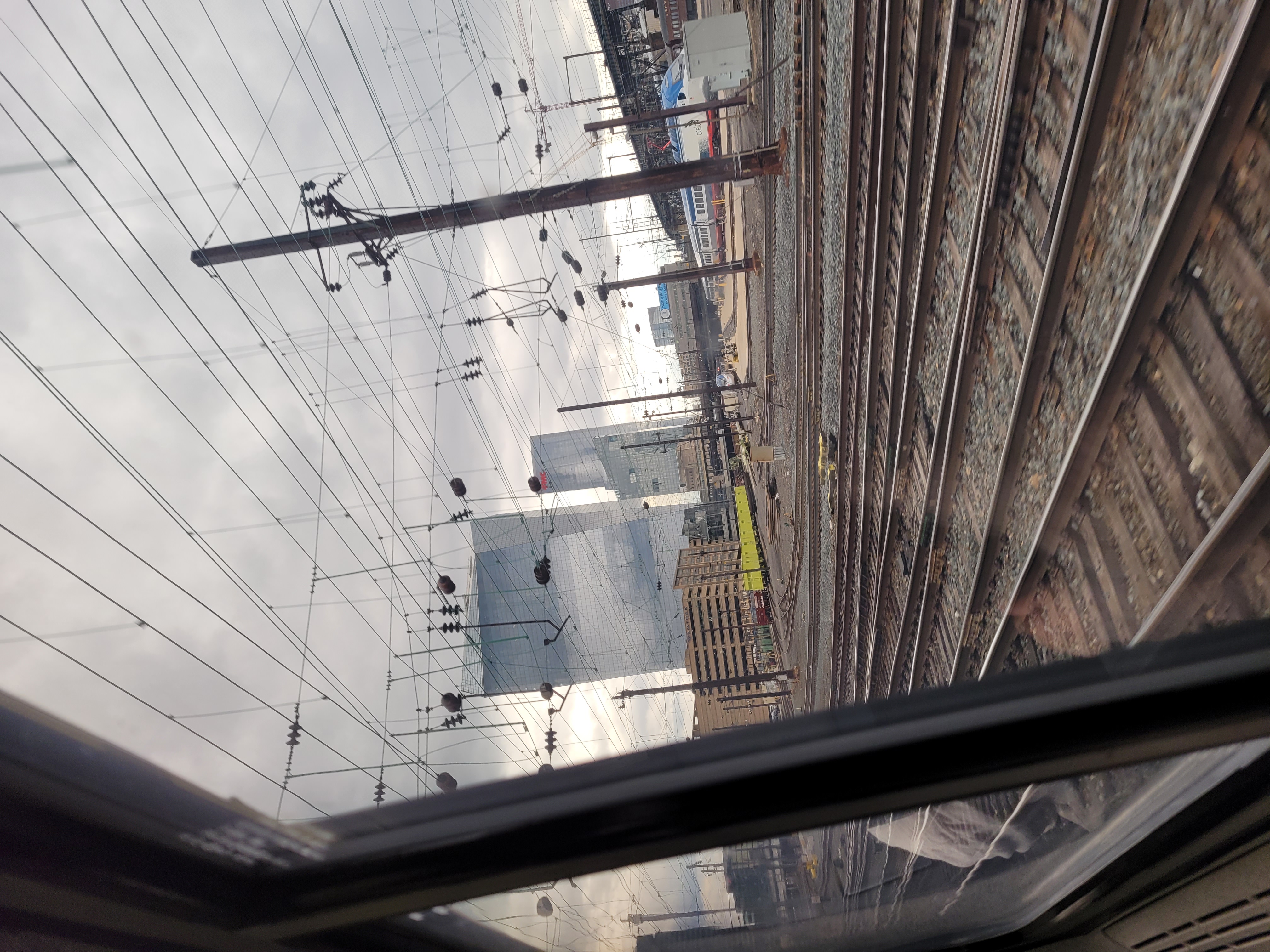 cool train wires? idk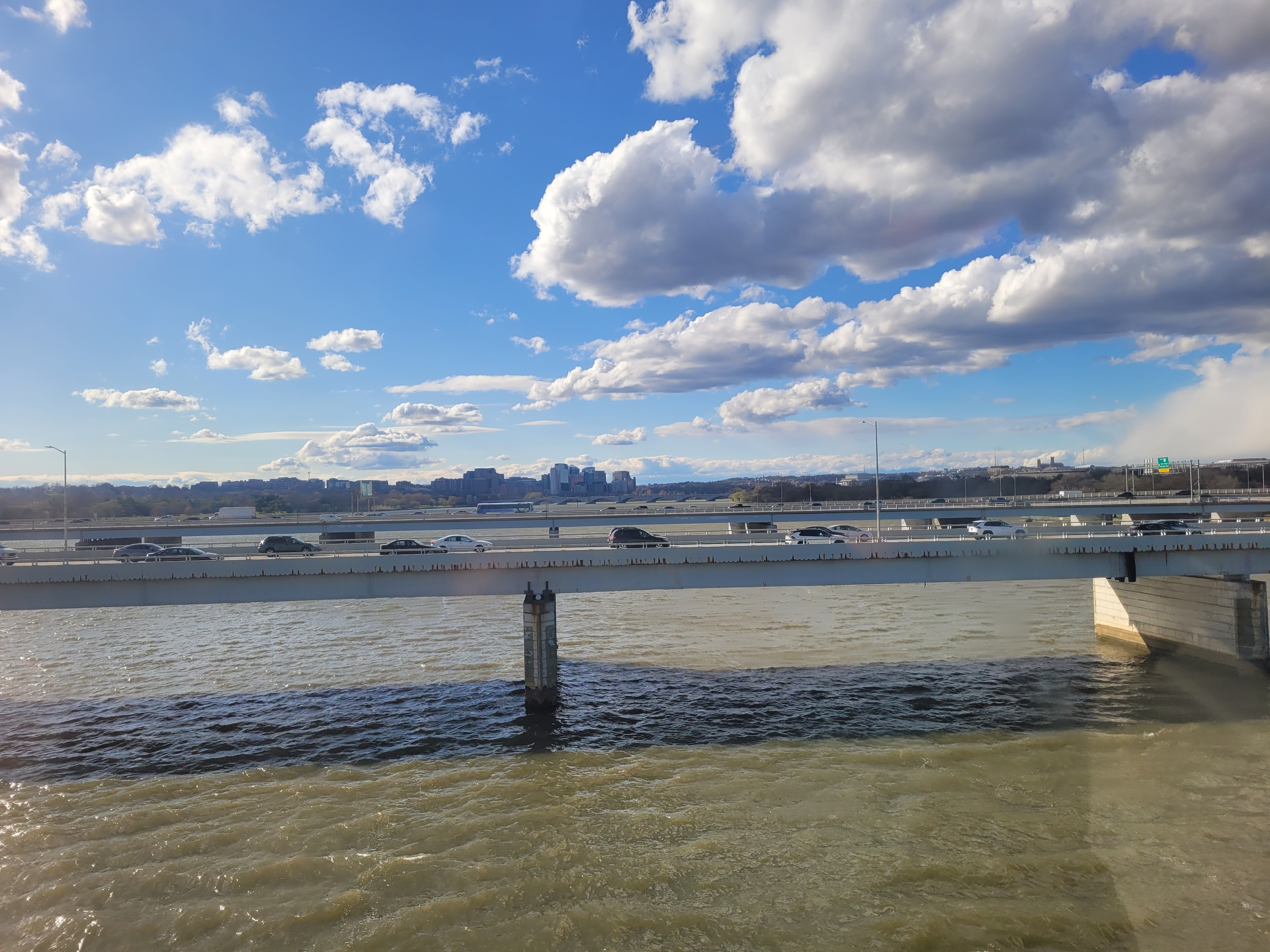 neato bridge over the potomac i encountered once off the train and on the metro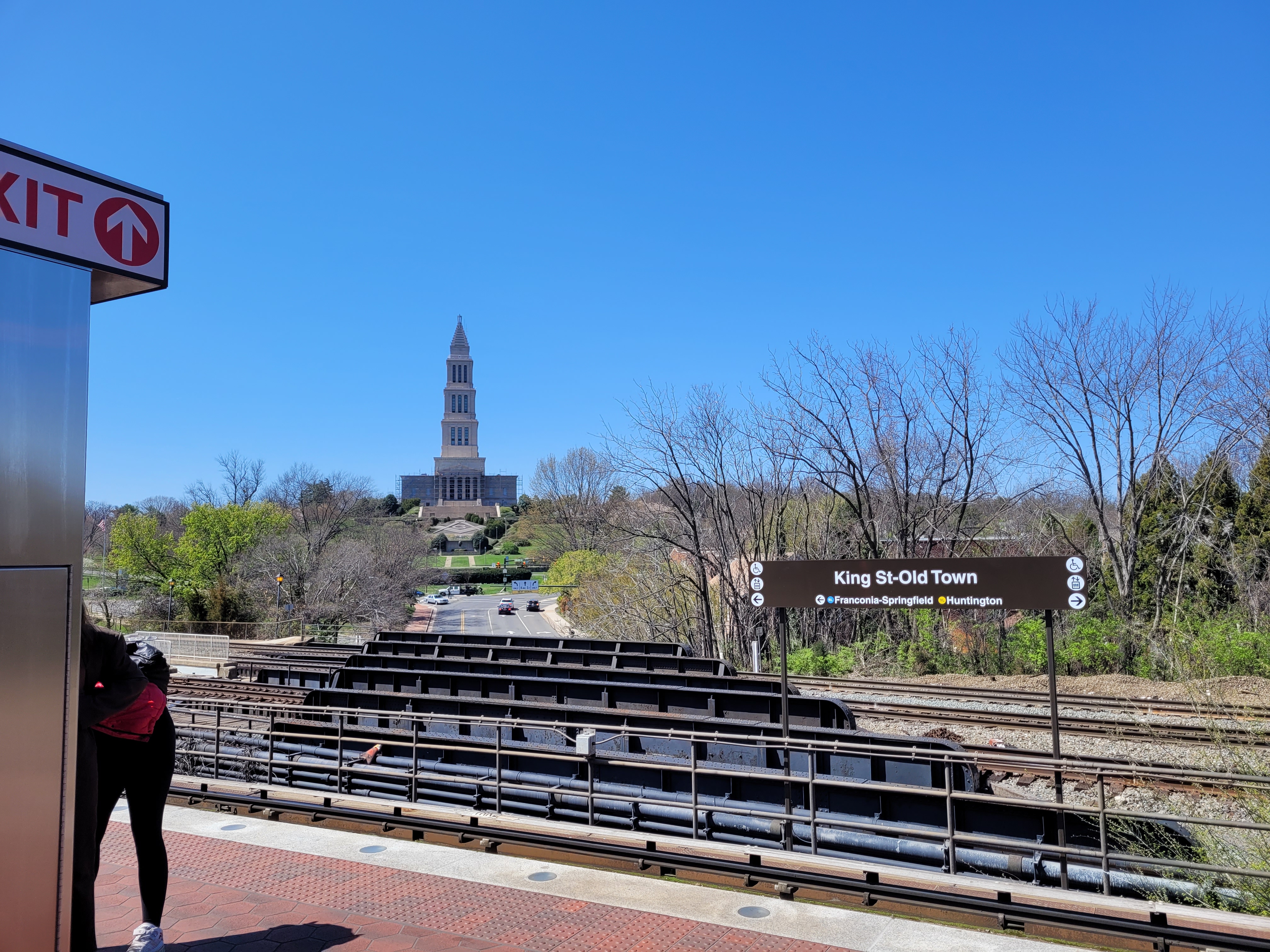 humongous masonic temple in alexandria, va that looks over the metro station. very ominous stuff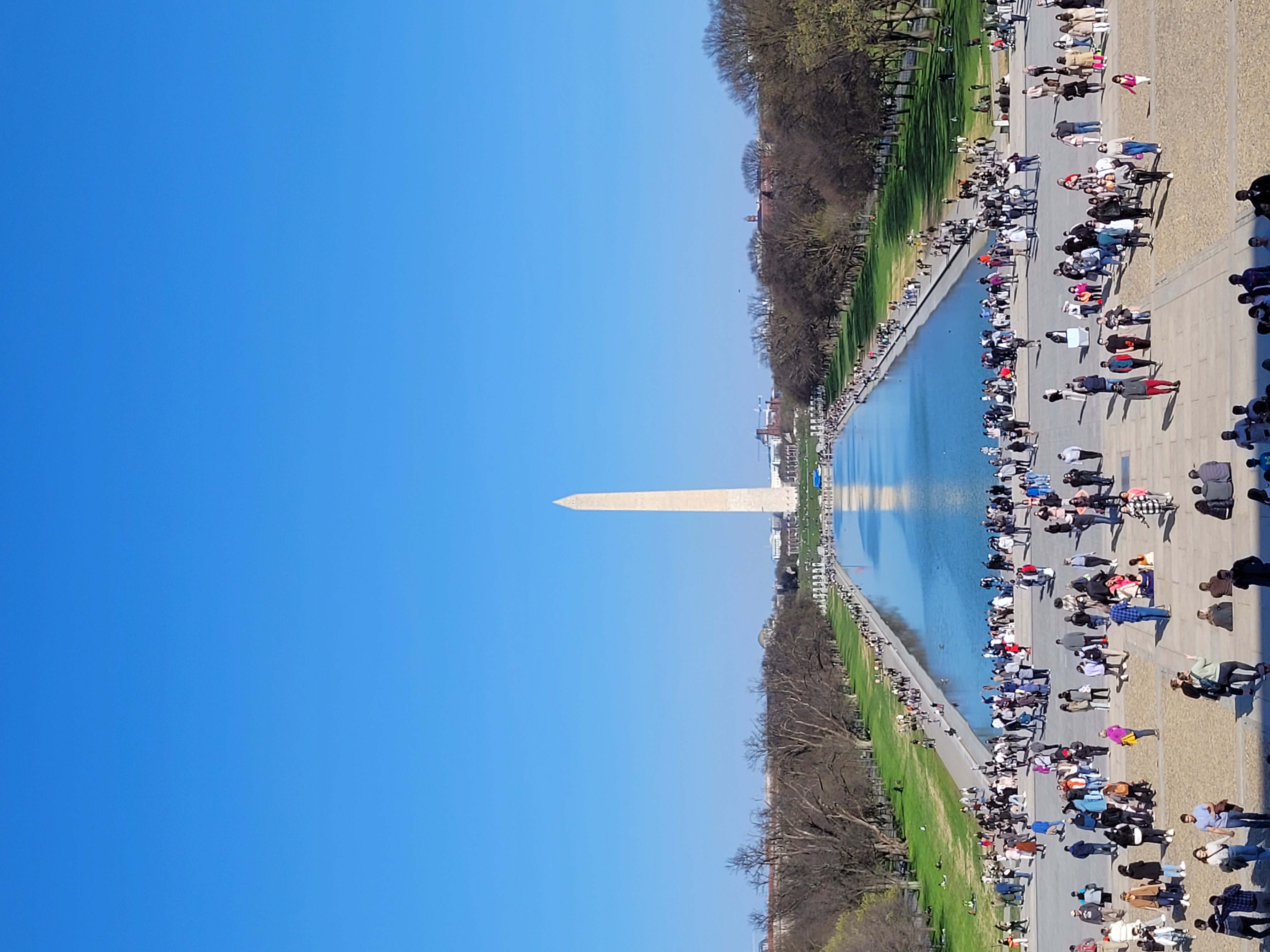 the washington monument in all its glory, as taken from the lincoln memorial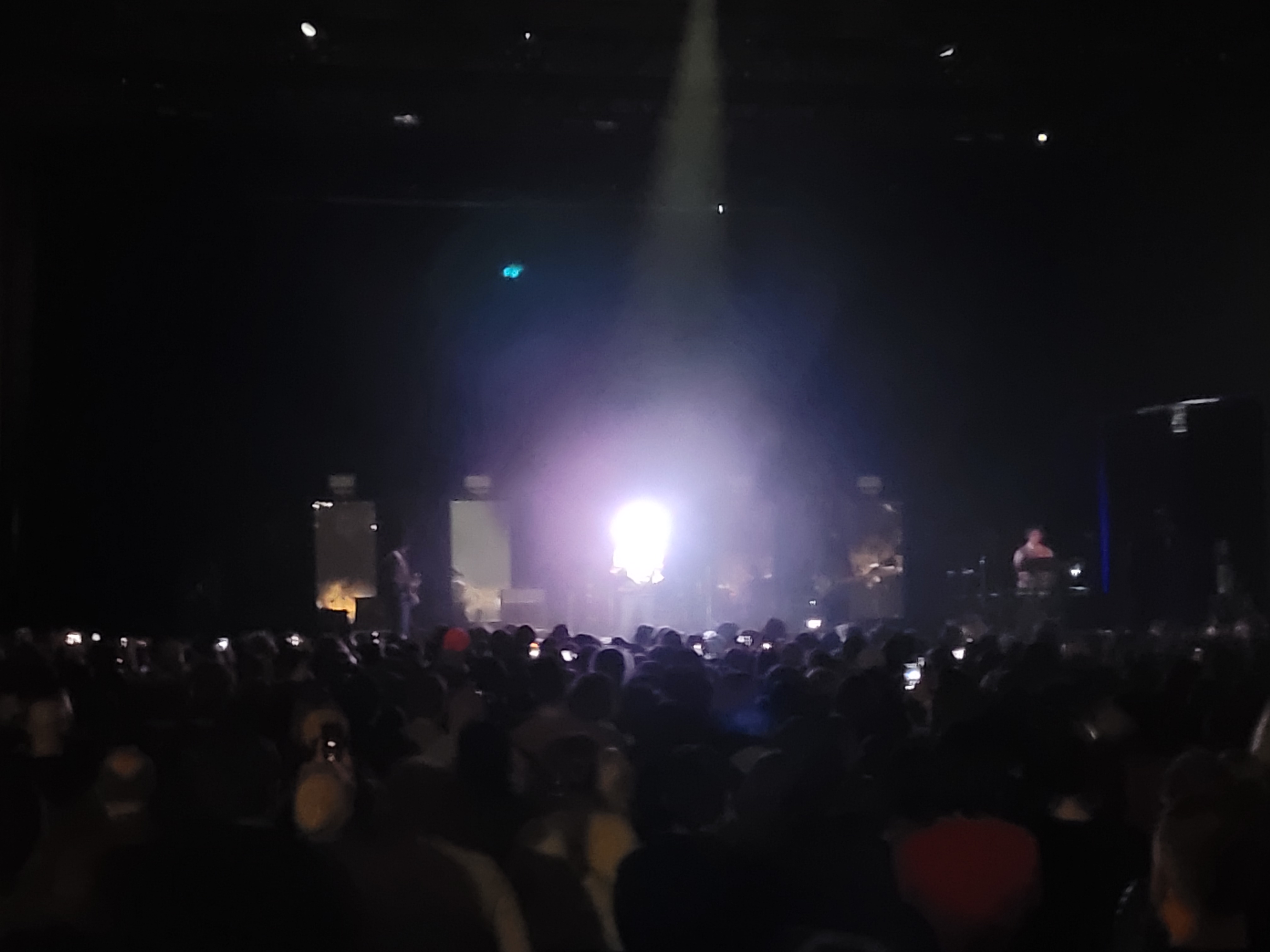 will toledo becomes consumed by the light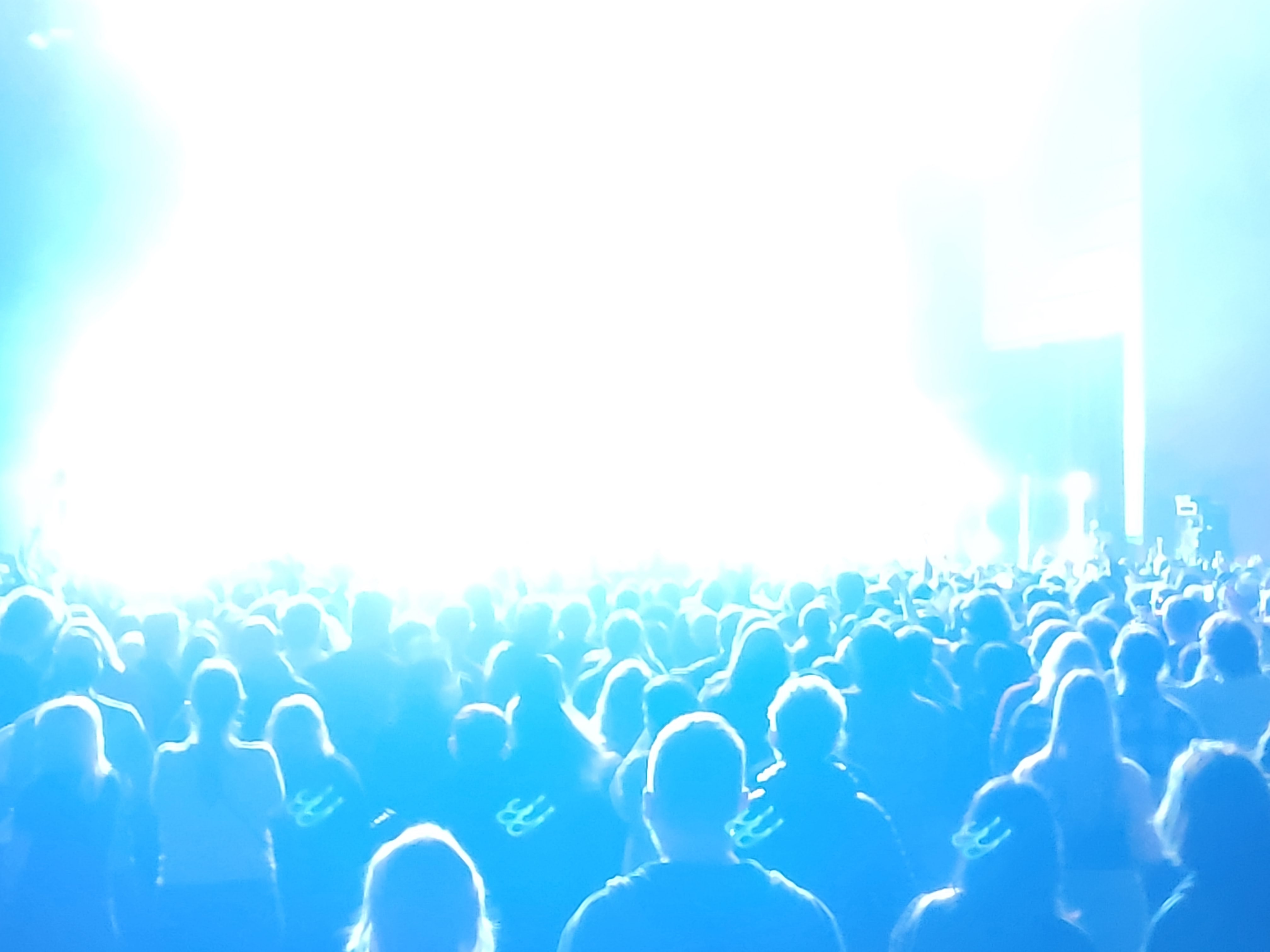 the crowd becomes consumed by the light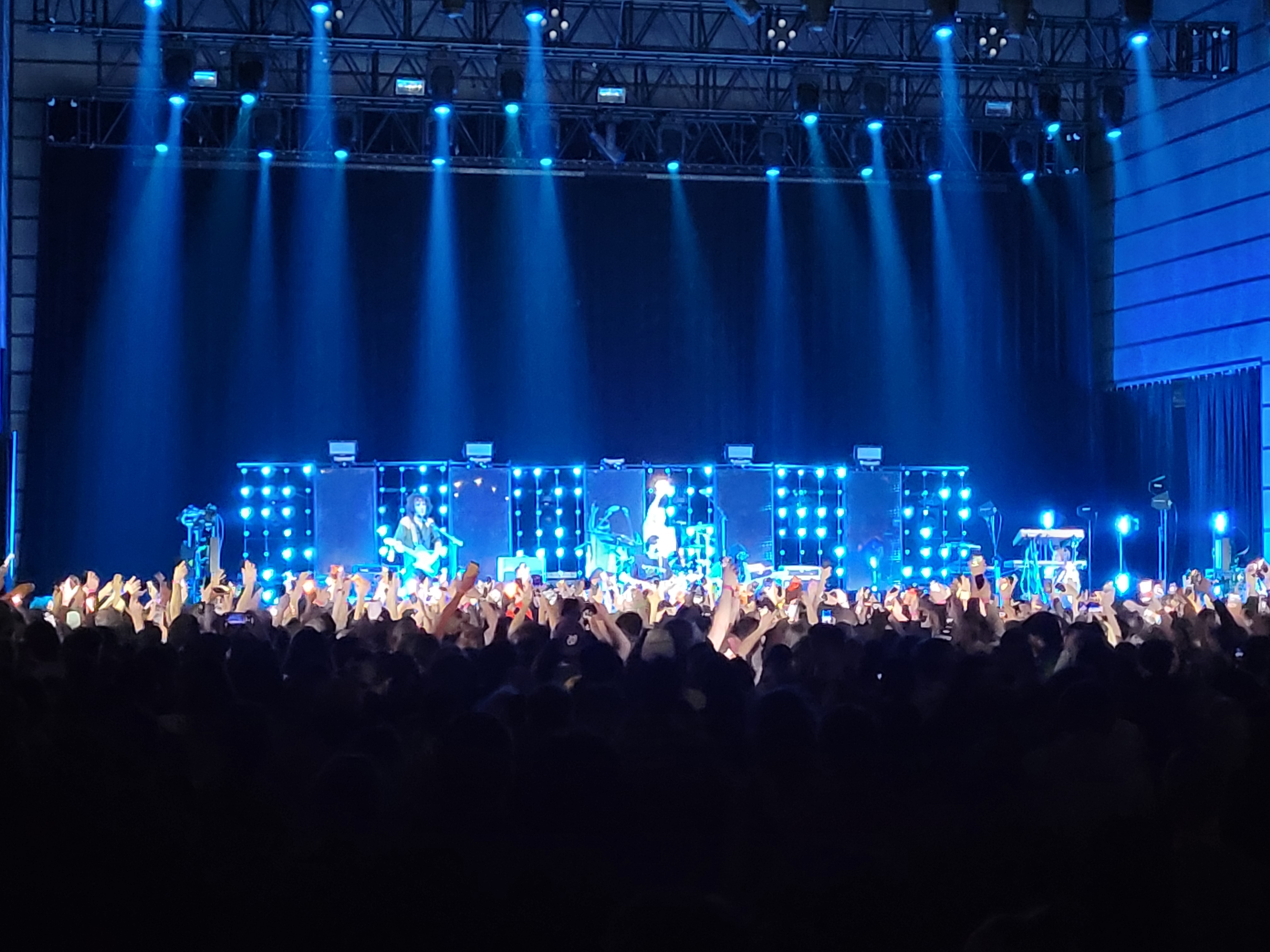 after being corrupted by the light the crowd sings its praises